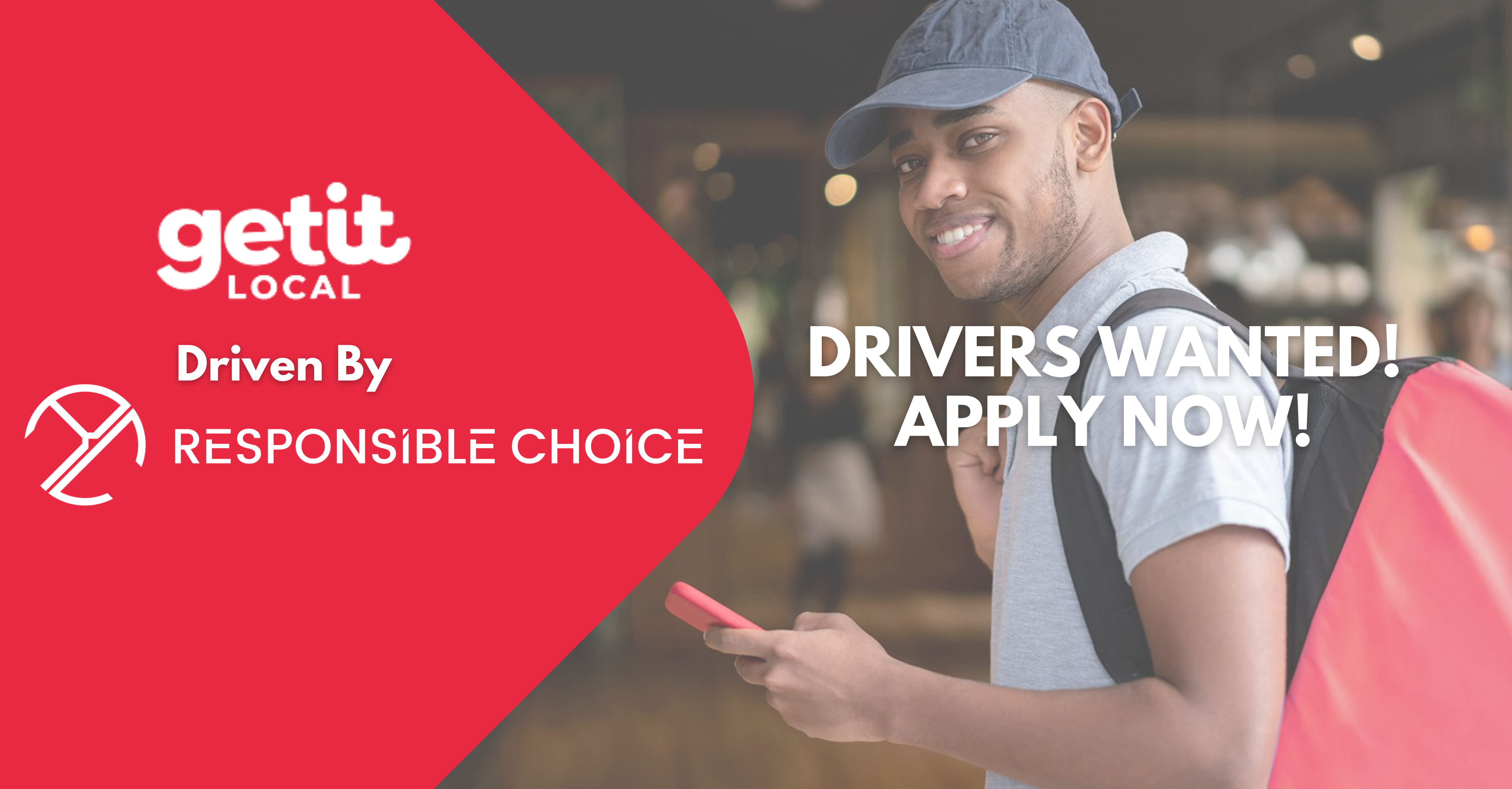 Getit Local is an Ottawa owned and operated delivery service, created by GETIT Technologies, that was designed to minimize fees for both the business and consumer. With Getit Local, you get the on-demand food delivery you're used to, but with the added benefit of supporting your favourite restaurants with flat, honest and affordable fees.
No more surprises at checkout, no more gouging at a restaurant's bottom-line & our drivers are paid fairly.
Want to drive for Getit Local? Keep scrolling!
Join Our Experienced Team!
Delivery services for Getit LOCAL are provided by
Founded with the goal to help prevent drinking and driving, Responsible Choice has been providing luxury transportation, parking management, automotive & concierge services for over 17 years. Shifting since the beginning of the pandemic to a focus on delivery services to help local restaurants and businesses, Getit Local is our latest opportunity to do so. We are very excited to be working with the Getit team on a project that could help so many. With a hybrid of technology and a more personal touch, the focus is to provide a low cost delivery solution to restaurants that is also beneficial for drivers.
Requirements
Minimum 18 years of age
Access to your own vehicle
A smartphone able to send/ receive texts & emails
'G' Class License (or equivalent)
A clean driving record
(1 or 2 minor offences won't preclude you)
A clean criminal record
Smart serve certification will be required after hiring
Take a Look at Why You Should Work With Us!
Paid Fairly
We compensate you for ALL of your time spent working, the mileage you drive and you get tips + opportunities for BONUSES!
Flexible Schedule
You work pre-scheduled delivery shifts, but still have the flexibility to choose when and if you want to work from week to week.
App Based
Driver app provided to Receive Requests, Route Guidance, Update Progress & Status, Track Orders and Complete Deliveries.
Never Left on Your Own
Work with a dispatcher & support team who keep in constant communication to help plan your deliveries, provide assistance and guidance.
Training Provided
Know what your doing! Be trained in all aspects of making deliveries. With DIY, Remote & In Person training methods available to drivers.
You're Joining a Team
You will have the opportunity to collaborate, receive updates, provide feedback, suggest improvements and changes to procedure.
Apply Now to Drive with Getit Local & Responsible Choice
We are always excited to add new members to our team!